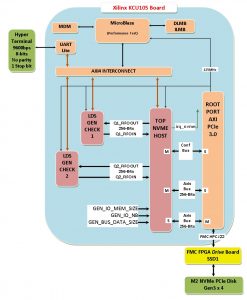 Targeting embedded recorder systems: LDS-NVME-HOST-K7U
France, Gournay sur Marne, December 29th 2021 – The LDS-NVME-HOST-K7U IP completes an existing family of Xilinx NVME HOST IP of Logic Design Solutions (LDS) in order to provide a complete panoply in embedded recording domain.
The LDS-NVME-HOST-K7U IP is one of the most flexible IP in the market at an excellent price.
Evaluation on KCU105 Xilinx board + FMC FPGA Drive board is available.